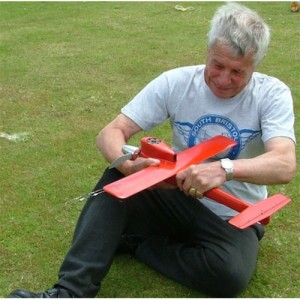 On the night of the 24th of May South Bristol Model Aircraft Club lost one of it's stalwart members when Gordon May finally lost his long battle against cancer.
Gordon's interest in Aeromodelling was long established, having been encouraged by his father. His first efforts, at the age of 11, were rubber powered free flight with models such as the Keil Kraft Achilles and the Frog Sprite.
When Control-line became popular Gordon joined a local club the Phoenix where he learnt the skills which stayed with him for the rest of his life.
At the age of fourteen, in his own words, girls became the No.1 interest and modelling went on the shelf for 20years.
In that period he served his National Service in the RAF being based for most of his time at RAF Wyton working on the V-bomber aircraft based there.
Having left the RAF Gordon returned to Bristol and started his long career working in the local engineering industries. In this period he met his wife Marlene and together they pursued the joint interests of dancing, big band concerts and travel.
Gordon's return to the aeromodelling fold began with the purchase of AM25 from a collegue in the Rolls Royce drawing office at Patchway in Bristol. Having built a trainer for the engine, he took it to the local flying site where he met up with his childhood friend Phil Darke. Phil persuaded Gordon to join the South Bristol club. Gordon did so and thus began his long association with the club.
He served as Secretary for the club for over 25years, only giving up the duties when he became ill. In addition to his secretarial duties Gordon was keen to help newcomers to the hobby, particularly the juniors. He became very involved with Mini Goodyear and for many years ran the event at the National Championships.
Towards the end of his flying career his interest turned to Vintage Speed. His boyhood heros were Harold De Bolt, John Sadler and Leo Holliday. He took great delight in building many of their models and flying them in competition.
Having flown them his only comment was: When you've flown the big 60's at high speed, why would you want to fly anything else.
He will be sadly mised by all members of SBMAC and our condolences go the his brothers Colin and Mike who were his constant companions in his final days.